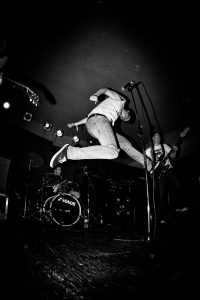 The last 2 months flew by. We've been busier than ever playing a bunch of shows and working on some new stuff. We played a set on WFMU, got to play with Screeching Weasel & the Queers in Baltimore and with Cock Sparrer & Cro Mags in Philly. We played in a cabin out in the middle of the woods of Virginia with GIVE for Tony Waste's birthday party. Played the hottest set we've ever played in Albany with the Casualties. We went up to Ottawa, ON for the Ottawa Explosion Fest and hit Buffalo, NY and Toronto, ON on our way. All those shows ruled. Last weekend we played a pair of record release shows for The Thing That Ate Larry Livermore 12″ comp in Baltimore and NYC, and I think that brings us up to speed.
We have roughly two weeks off now where we will continue working on some new songs and learn some old ones we haven't played in a while for the west coast tour we are doing (dates below)… "Fresh Kills Vol. 1", our collection of early singles and demo ("s/t" 7″, "midnight movies" 7″, "killer waves" 7″, and 2009 demo) is being pressed on 12″ courtesy of Grave Mistake Records. We figured with all the singles and demo now being out of press it was a good way to keep them around in vinyl format. The release date is Tues. Aug. 21st, but we will have advanced copies with us on the road out West. We are also having a record release show for it. Aug. 25th at the Acheron in Brooklyn, and a surprise Brooklyn show a few days after that. We'll have some mailorder only additions available also for you record collector types, and those will be available on this website when we get home from California.
I think that's it. We have some other shows coming up too and we'll have info for them soon. See you out West!
RECORD RELEASE SHOW:
HARDCORE GIG VOLUME #199
NIGHT BIRDS – "Fresh Kills" 12″ release show
NUCLEAR SANTA CLAUST
GOOSEBUMPS
LOOSE ENDS
MUTANT GENES
Saturday, August 25th – 8pm – 18+
@ The Acheron
57 Waterbury St
Brooklyn, NY
http://theacheronbk.blogspot.com/
WEST COAST TOUR DATES:
Fri. 7/20 – Pomona, CA
@ VLHS (254 San Lorenzo St.)
w/ Toys That Kill, The Shrine, Auckerman, Vultures United.
9pm / $6 / ALL AGES
FACEBOOK EVENT: http://www.facebook.com/events/271171766276620/
———————————————————
Sat. 7/21 – Santa Barbara, CA
@ Earl Warrens Showgrounds
SOUND & FURY FEST w/ Bane, Earth Crisis, H20, No Tolerance, Terror
more info at: http://www.soundandfuryfest.com/
———————————————————
Sun. 7/22 – San Pedro, CA
@ Harolds
w/ Toys That Kill
———————————————————
Mon. 7/23 – San Diego, CA
@ the Eleven (3519 el cajon)
21+
———————————————————
Tue. 7/24 – Los Angeles, LA
@ Blue Star Cafe (2200 E 15th St)
w/ Toys That Kill, Hands Like Bricks, Kent State, Tough Stuff
8pm / 18+ / $7
FACEBOOK EVENT: http://www.facebook.com/events/196289190484798/
———————————————————
Thu. 7/26 – Honolulu, HI @ NO SUCK FEST w/ FYP, Toys That Kill
Fri. 7/27 – Honolulu, HI @ NO SUCK FEST w/ FYP, Toys That Kill
Sat. 7/28 – Honolulu, HI @ NO SUCK FEST w/ FYP, Toys That Kill
Sun. 7/29 – Honolulu, HI @ NO SUCK FEST w/ FYP, Toys That Kill
———————————————————
Tue. 7/31 – Victoria, BC
@ Logan's Pub (1821 Cook Street)
w/ Big Eyes, Sheglank'd Shoulders, the Hoosegow.
9pm
FACEBOOK EVENT: http://www.facebook.com/events/271742979557057/
———————————————————
Wed. 8/1 – Vancouver, BC
@ Iron Roads Studio (383 Raymur Ave.)
w/ The Jolts, Big Eyes, Vacant State
FACEBOOK EVENT: http://www.facebook.com/events/216270238462098/
———————————————————
Thu. 8/2 – Portland, OR
@ the Know
w/ The Estranged, Freedom Club
21+
———————————————————
Fri. 8/3 – San Francisco, CA
@ Hemlock Tavern (1131 Polk St.)
w/ Sharp Objects, Ruleta Rusa, Bad Coyotes
9:30pm / $7 / 21+
FACEBOOK EVENT: https://www.facebook.com/events/253713288075433/
———————————————————
Sat. 8/4 (EARLY SHOW) – Oakland, CA
@ 1-2-3-4 GO! Records
w/ Sharp Objects, Bad Coyotes
3pm / $6 / ALL AGES
FACEBOOK EVENT: http://www.facebook.com/events/275001839246520/
———————————————————
Sat. 8/4 (LATE SHOW) – Berkeley, CA
@ Gilman St.
w/ Bobby Joe Ebola and the Children Macnuggits, Neon Piss
7pm / ALL AGES
FACEBOOK EVENT: http://www.facebook.com/events/265747720179976/